Review: Shepherd, Potter, Spy--and the Star-Namer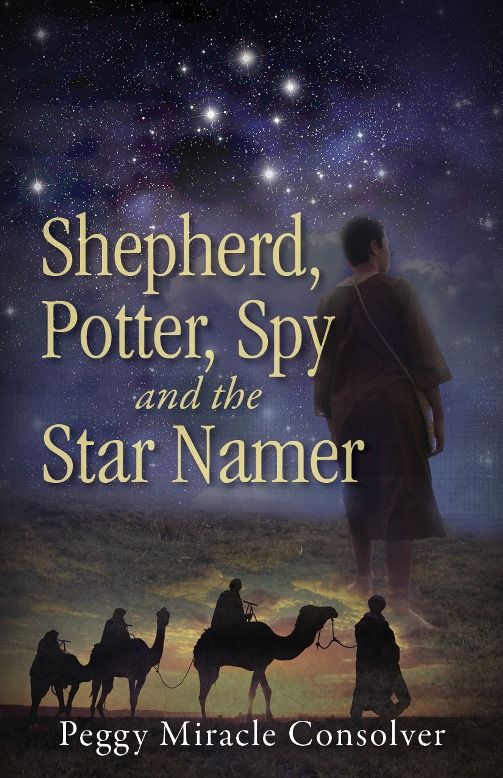 We read
Shepherd, Potter, Spy--and the Star Namer
from
Peggy Consolver - Author
as a family read-aloud. From Mister Man (age 5) to Rose Red (age 17), we gathered together several nights a week to listen to the story of young Keshub, a Gibeonite boy living when Jericho was a strong, walled city and the Israelites were at the end of their 40-year wandering in the desert.
(
Note:
As a family, we haven't finished the book. When I realized time was running short for our review period, I finished the book on my own to be able to complete this review. The kids love this book, and I'm quite enjoying my second time through to the end,)
We are lovers of the Bible and the stories therein. Our older children have grown up singing,
"Joshua fought the battle of Jericho, Jericho, Jericho. Joshua fought the battle of Jericho, and the walls came tumbling down."
They, in turn, have joyfully taught our younger children to march in circles while singing of this miracle at the top of their lungs as well.
We've always approached the story from the perspective of the Israelites--commanded by God to enter the promised land and take it for their own.
Inspired by the interesting story of the Gibeonite treaty with the Israelites as told in Joshua 9 and 10,
Peggy Consolve
r fleshes out and brings to life the perspective of the clever Gibeonites, watching the Hebrew people, witnessing the miracles of manna, of military might, of the presence of the Lord in their midst, of the parting of the Jordan, and of their daily faith--and what it must have been like to wonder what would happen when this mighty people eventually arrived at their front door.
Their fear, and likewise their determination, are palpable.
Mister Man was hooked from the beginning of the story when Keshub defends his cousin's flock of sheep from a bear.
Wait . . . a bear?
In the Middle East?
1 Samuel reports that David fought off lions and bears, but somehow we've never bothered to question this. Suddenly, we were curious.
Fortunately
Peggy Consolver - Author
has a
study guide
(available for purchase) and a collection of
online resources
(available for free) that help to answer questions and extend knowledge that is touched on in
Shepherd, Potter, Spy--and the Star-Namer
.
It took only minutes for us to learn about the nearly extinct Syrian Brown Bear.
Additional resources include a braiding tutorial, videos on knot tying and using a sling shot, articles on insects, the Egyptian game of Senet, and lots and lots more.
We haven't explored it as a family yet, and we don't have the tools to do it ourselves, but I'm thinking the how-to-build-a-bow video is going to be very inspiring to certain small boys and girls. :)
Connect to the video here
The younger listeners in our family loved hearing familiar Bible stories told in the context of Keshub's personal story.
"I know that story!" they'd exclaim as they listened, their faces bright with delight and interest.
(
Note
: If I had only little ones [under 12] I wouldn't have used this book as a family read aloud. It's definitely got a teen-to-adult sort of plot, and my under-12s needed lots of help to keep track of the characters and what was going on. Between Bible story highlights, they tuned out a lot, but I considered it good listening practice for them, and it was a good story to share with the older kids. If you've got only littles at home, get it for yourself as a grown-up treat!)
Shepherd, Potter, Spy--and the Star-Namer
has such a tremendously exciting plot and such engaging characters that it is a page-turner. At the same time it is such a thought-provoking read--so rich with history, culture, faith, character development, and moral dilemma--that we couldn't just keep turning pages to see what happened next.
So the little ones have practiced much patience while we older ones often stop reading to talk . . . Why would God command the Israelites to leave no survivors? Why didn't God just lead the Israelites to an empty land? How do we reconcile the loving Jesus of the New Testament with the fierce and demanding Jehovah of the Old Testament? How could God's chosen people be such ferocious killers? Slavery?!? Is it okay to endanger one set of people in order to save another? What is the purpose of this life? Can we make enemies into friends? How? Are humility and meekness attainable attributes in real life? How do we graciously submit to authority? Arranged marriages?!? What price would we pay to know God? Just what does it mean to put God before all else?
These questions (along with others) and the resulting conversations were not directly raised by the text.
Shepherd, Potter, Spy--and the Star-Namer
is not a preachy book. It is simply such well-written and engaging historical fiction that we couldn't help thinking and talking as we read the story.
Nature Angel has said more than once, "I really like this book, Mom. I'm glad we're reading it."
Pixie said one difficult evening when the time we usually sit down to read was passing, "We ARE reading tonight, right, Mom? I like this book a lot, and I'm looking forward to reading time."
The night the kids put enough clues together about the red cord to identify Rahab and the Israelite spies, the kids actually jumped out of their seats with excitement.
It was a very energetic reading session.
Teens included!
A small delight I've taken from
Peggy Consolver
's writing style has been how she weaves together modern Americanisms with ancient and/or middle eastern vocabulary. In theory, some of the phrases she uses should be jarring and anachronistic, but for some reason, in practice they aren't. They work together to make the story feel both ancient and approachable.
I feel challenged and changed for the better for having read it.
I highly recommend
Shepherd, Potter, Spy--and the Star-Name
r as interesting historical fiction, as a thought-provoking spiritual journey, as an engaging retelling of a Bible story, and as an exciting adventure.
For more crew reviews click
here
or on the banner below: